Accelerating parts manufacture and supply
AUSSIE MANUFACTURING HAS NEVER BEEN MORE IMPORTANT, SAYS GREG KENNARD, MASPRO'S MANAGING DIRECTOR. "WE'RE DOUBLING DOWN ON OUR COMMITMENT TO LOCAL INDUSTRY AND JOBS BY INVESTING IN A NEW STATE-OF-THE-ART FACILITY OPENING IN 2021, RIGHT HERE IN BEAUTIFUL CONDOBOLIN". WATCH IT COME TO LIFE!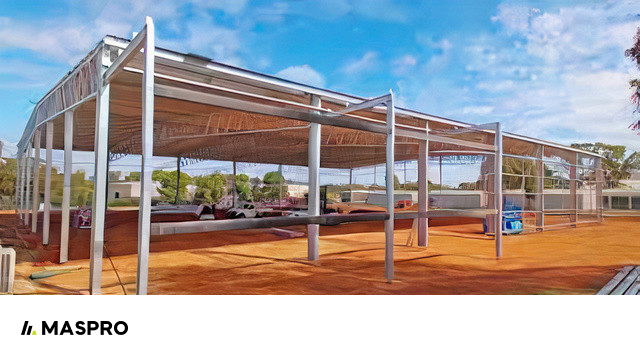 Doubling our
Local
Manufacturing
After decades serving the mining industry, we understand that quality parts, high-stock availability and rapid delivery are critical to avoid costly downtime. That's why we're doubling the size of our local manufacturing facility, growing our team and adding an extra 1,750m2 of warehouse space in 2021.
While MASPRO has been built on world-class machinery, expert engineering and innovative technology, the Kennard family – who have run the business for three generations – identified the need to significantly increase physical production and storage capacity to accelerate their supply chain and eliminate blockages as the business grew.
Lean layout streamlines processes 
With a passion for quality engineering, Greg Kennard and the team left nothing to chance.
"To fit out the new space, we engaged lean experts to analyse the workflows and positioning of people, machines and raw materials to compress production lines, centralise equipment, minimise raw material movements and fast-track the process from end to end."
"It's all about getting the right people, machines and materials in the right place at the right times. Mapping the end-to-end process for manufacturing components using a proven Facility Layout Development Process will introduce efficiency gains from the future state Value Stream Map and modeling against sales growth projections has determined future maximum site capacity.." 
Adding 1,750m2 extra storage space
To complement the brand new manufacturing facility, MASPRO's large existing factory space is also being converted into a fully-equipped dedicated 1,750m2 warehouse.
This will enable them to stock more parts and raw materials on site, and make deliveries and pickups faster and easier. This is on top of existing well-stocked distribution centres strategically located in WA, QLD and TAS.
Attracting the best expertise
As well as a state-of-the art manufacturing facility, they're looking after their people with dedicated office space up on the mezzanine level, a large kitchen, communal canteen, gym, showers and air conditioning. Providing a comfortable space to work and recharge is all part of the new building and employee retention strategy, says Kennard.
"As long-term members of the Condo community, we are committed to being a premium employer that attracts and retains the best local, national and international talent to our town."
Digital systems enhance efficiency
Beyond the physical improvements, in the past 12 months MASPRO has also focused strongly on their digital transformation.
"We've rolled out an enterprise resource planning (ERP) platform to digitise our supply chain, integrate our headquarters in Condobolin with all our warehouses across Australia, and manage our customers and suppliers globally."
The goal is to predict and match supply with demand
Combining the very best facilities, machinery, people and software, the business goals are:
Ensuring regular parts are stocked and ready to ship at all times
Enabling rapid supply and support for critical or emergency parts
Minimising client downtime by stocking parts closer to where they are needed
Forecasting client demand to enable manufacturing ahead of time
Streamlining supplier relationships to guarantee raw materials and components availability
MASPRO's new facility will help take the business to the next level, delivering the quality, consistency and innovation you expect with more stock on hand and faster delivery.
Streamlining your mining process, can help your save costs and boost productivity
If you need help finding parts that can improve the efficiency of your mining operations
Get in touch