The Easer L enables both upwards and downwards drilling without the need for a concrete platform, wheels into small spaces, can be operated remotely and drills highly accurate holes in any direction – all features which provide flexibility, safety and speed of operation with lower risk.
Lag on parts slows progress 
Problem: With a wait time of up to 13 weeks for OEM parts, our clients asked us to locally produce consumable components and enhance the design of parts to optimise their performance.
Solution: We have developed a range of parts that are equivalent to, or better than, OEM at a lower cost. As usual, MASPRO makes products to stock rather than to order so we typically have parts ready to ship the same day.
Easer L
Range
Clamping Bar Front Pipe
Loader
Plain Bearing
Bearing
Pin
Pipe Loader Jaw Assy
Air Tube
LockNut
Air Tube / Swivel
Shaft
Swivel
Lock Device Assy
Wrench
Link Arm Assy
Taper Pin D32 Assy
Pipe Loader Wear P
Palfinger Wear Pads
Seal Kits

On top of that, our inhouse re-engineering and manufacturing enables us to make modifications not possible in a timely manner from OEM providers.
Link arm bends under pressure
Problem: Our client, a supervisor at a large Australian mine, found that the hydraulic cylinder that drives the spanner was malleable and under-engineered, bending when under high strain.
Not only does removing and straightening the arm mean costly downtime,
it results in an even weaker part. Plus, the lead time for getting new replacements from Sweden was several weeks.
Solution: A fast fix was needed. Based on a rough sketch provided by our client and a direction to "beef it up", MASPRO reverse engineered the part and redesigned it to be heavier, thicker and stronger in design, and using a raw material of higher tensile strength.
The result was not only a more durable part, but ongoing replacements available within days.
The client was happy:
Durable
Replacement
within days
"Gee you guys are efficient! The link arms have been working a treat, no interference, nothing coming loose and they look sleek."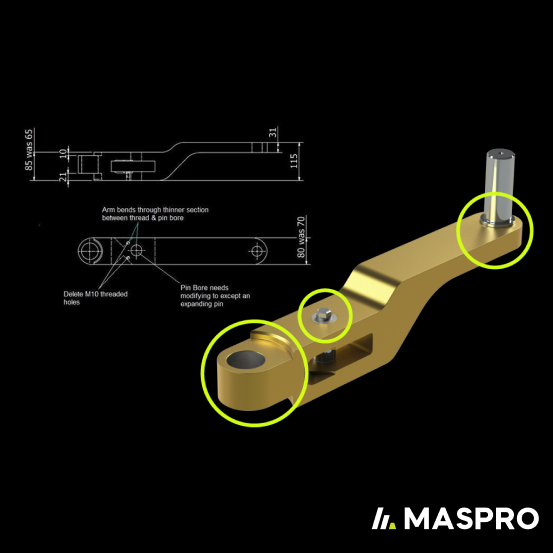 Screw loose in the air tube
Problem: The original OEM air tube was made up of two separate pieces joined with a nut and bolt. Over time, jarring would loosen the nut and disrupt the flow of air. While tightening the nut is simple enough, getting inside the gearbox and disassembling it for access was a painful process.
Solution: By taking a holistic look at the part and reverse engineering it, our team designed a new part that was an all in one solid piece. As it no longer needed bolting together, it eliminated the problem altogether, delivering a more reliable, stronger and longer lasting air tube mechanism.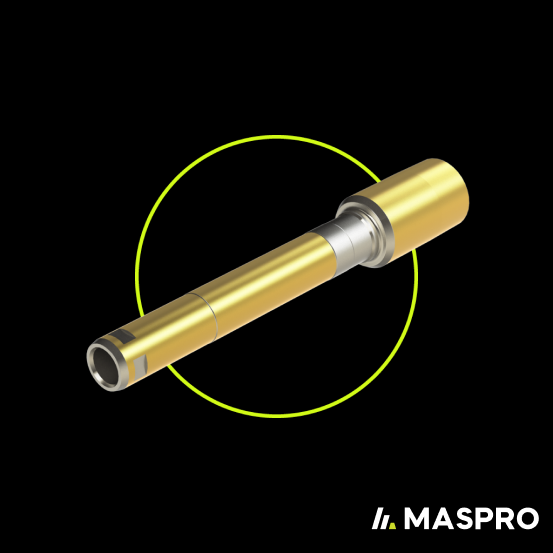 All-in-one seal kits on demand
Problem: The common process of replacing worn seals on the Easer L was becoming a problem, as reliably getting the parts from overseas had long lead times and high costs.
Solution: As we do for many popular above and below ground drills, MASPRO makes all-in-one kits for common maintenance tasks. For example for the Easer L we have rebuild kits for the shaft and swivel including all the compatible parts needed in one package. So the maintenance engineer can grab the kit off the shelf and know that everything is ready to go.
In addition to the Epiroc Easer L raiseboring machine, MASPRO supplies a range of replacement consumable parts compatible with brands like Sandvik. 
Without the global corporation overheads and markups, and with local manufacturing and warehousing, MASPRO can rapidly deliver OEM quality for less.