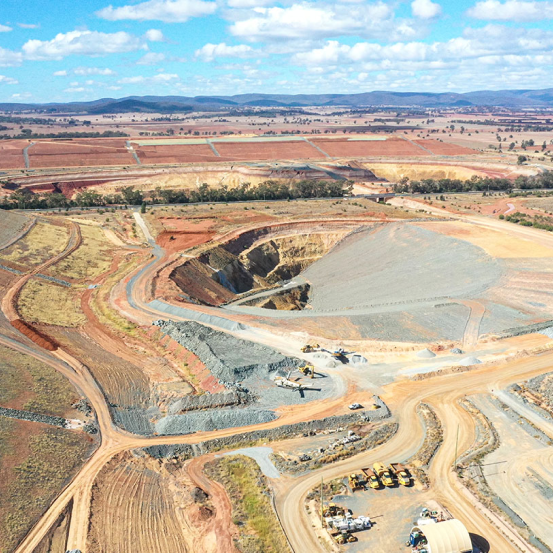 HOW A LOCAL WIRE MAKER BECAME A GLOBAL PLAYER
Smack bang in the centre of NSW, 460 kilometres west of Sydney, Condobolin is not the obvious choice for a state-of-the-art engineering facility.
But not only has MASPRO made this beautiful, laid back and remote location home, this Australian owned family business is growing at over 30% per year, with plans to build a new facility to triple their floorspace, all in the uncertain world of mining.
Through sophisticated machinery, engineering know-how and innovative software, MASPRO has become a leader in the manufacture of premium-quality spare and replacement parts for the mining industry.
But it hasn't been an overnight success.
Tie it up with wire
After a stint working with his father in the 80s, Laurie Kennard went out on his own, buying a fledgling wire business in Marrickville, Sydney, called MASPRO Wire. With Australia still riding the sheep's back and wool bale fasteners his top selling wire product, Laurie was on to a good thing.
After growing the business, and five young sons along the way, Laurie and his wife decided to make the move to Condobolin in 1992 for a tree change and to be closer to their largely agricultural and rural customer base.
What about me
Condobolin was a far cry from the busy streets of Sydney. Back in the 90s, local boy Shannon Noll was still singing backups with his family band, a decade before he shot to fame on Australian Idol. His classic #1 hit, What About Me, was later famously filmed in the Condobolin streets and corner shop.
Then, as now, on the main street you'll find the usual selection of pubs, RSL, supermarket, Chinese takeaway, chemist, corner shop and café.
It was a big change for the family, but with three boys running around life was full and busy, and so was business.
Father and sons
When their oldest son Greg left school, he started helping out in the factory, showing particular promise as a machinist under the guidance of his father. He soon started to pick up extra work making gears and sprockets for the local agriculture and mining businesses.
With a passion for the craft and some great mentors in the early years, including a Chinese master from Sydney, Greg had become highly skilled at manufacturing specialists parts. He was also exploring the use of the latest CNC machining – where software is used to automate and control the manufacturing process.
Soon this line of work had grown enough that their brother Martin, eventually followed by Jason, were recruited to help the business grow.
Gearing up x 10
A kick-start for the business, a team of just four at this point, came along when a local mine approached MASPRO wanting 10 large gears for their hard rock drills. While it was far more complicated than anything they'd tackled before, the team figured out how to engineer the parts, sub-contracting specialist equipment.
Greg, who was already passionate in this area, saw this as a huge opportunity for the business:
"I've always had a passion for making things, and making them right. But a mentor of mine convinced me that to grow the business, I had to get off the tools myself and learn about management and operations. So I did business courses and started learning about systems and quality control."
Shortly after, with orders coming in steadily, the Kennard family took the plunge and invested more than half a million dollars in their first CNC machine.
A major turning point
Armed with the right tools and a growing team, MASPRO quickly became an approved original equipment manufacturer (OEM) supplier for JOY Global, and won a contract with Mount Isa Mines for the ongoing supply of 30+ products for their rock drills.
The years since have seen a steady stream of more orders, more products, more machinery, more staff, and more customers across Australia and globally.
Today, MASPRO has a dozen state-of-the-art CNC machines producing 10,000 different types of parts, a growing team of 30 professionals, contracts right across Australia, and warehouses in Perth, Mt Isa and Tasmania.
Exports are also expanding rapidly with customers now in Tanzania, Egypt, Papua New Guinea, Ghana, Burkina Faso, New Zealand and North America.
Built by the Kennards
When Laurie Kennard chose the name MASPRO, a shortening of 'mass production', in the 1980s, it would seem he foresaw a big future for the business even then.
Fast-forward three decades and not only are his original wire products still a very big part of the mix, but his three sons have helped turn MASPRO into a global player of high-end spare parts for miners across Australia and now all over the world.
MASPRO has built up a list of loyal customers, including long-term partnerships with big miners and mining service companies like Barminco, BHP and Mt Isa Mines, as well as with junior miners and smaller owner operators.
One of the key employers for Condobolin, the MASPRO team is a proudly diverse cultural mix . Over the years they have sponsored many skilled immigrants who have become part of the local community, a number of whom are now Australian citizens.
A game of micrometres
For Greg and the team, maintaining unrivalled quality has always been their top priority.
No room for downtime
"In mining, there is no room for downtime. Every lost hour can cost thousands. That's why we put so much effort into every part… selecting raw materials, precision machining and grinding, heat treatment, testing and quality inspection at every point, even packaging… we leave nothing to chance."
"Everything falls down if parts are anything less than perfect. To me each part is a work of art!" Greg Kennard, Managing Director- MASPRO
While they have come a long way, it seems that the Kennard family is just getting started, with a new facility in the works and ambitious growth plans.
We've only heard part of the story.