As a part that regularly needs to be replaced or repaired, whether for scheduled maintenance or break downs, the rapid repairs made possible by live ends get your machines back in action straight away to minimise costly downtime. Ordering is simple too with one part number, one price and one kit.
All-in-one: MASPRO's live ends for hydraulic cylinders include a new rod, piston, head gland and seal kit all pre-assembled in the factory and ready to insert into a barrel.
Efficiency: Live ends significantly reduce on site labour as they avoid having to stock, disassemble and replace the majority of parts and then reassemble.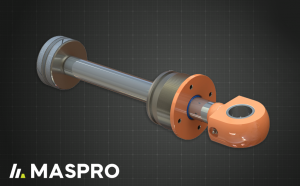 Predictability: By replacing everything at once, all components are new and more likely to last until the next scheduled repair, lowering the risk of premature failure and costly downtime.
Flexible: While ordering the live end kit includes a volume discount, if you prefer to stock and replace individual parts we also sell components separately, as well as complete hydraulic cylinders.
Live end range:
MASPRO's growing range of hydraulic cylinder live ends includes parts suitable for the following machines:
Sandvik Underground Development Drills
Sandvik Underground Production Drills
Sandvik Underground Cable Bolters
YOU CAN RELY ON MASPRO FOR YOUR SPARE PARTS NEEDS
If you're managing procurement and thought you couldn't find a dependable supplier with unbeatable quality, competitive pricing, strong in-stock position PLUS full technical and customer service support, think again.
Get in touch