Something out of Nothing
Not only has MASPRO made this beautiful, laid back and remote location home, they've transformed it into a world-class manufacturing facility for premium-quality spareparts for the mining industry.
In this video we meet the MASPRO team, see the sophisticated machinery in action and showcase the harsh yet beautiful landscape, above and below ground.
For Managing Director Greg Kennard and the family-led team, quality has always been their top priority.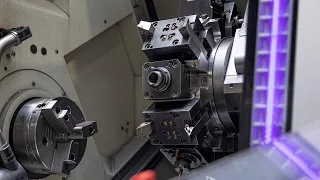 NO ROOM
FOR
DOWNTIME
"In mining, there is no room for downtime. Every lost hour can cost thousands.

That's why we put so much effort into every part… selecting raw materials, precision machining and grinding, heat treatment, testing and quality inspection at every point, even packaging… we leave nothing to chance.

Everything falls down if parts are anything less than perfect. To me each part is a work of art!"
YOU CAN RELY ON MASPRO FOR YOUR SPARE PARTS NEEDS
If you're managing procurement and thought you couldn't find a dependable supplier with unbeatable quality, competitive pricing, strong in-stock position PLUS full technical and customer service support, think again.

Give us a call